Newport's "Double Trouble" Eye Duo
---
Did you know that looking older is a fear shared by more than 70% of the American population?
Growing older is a depressing experience for the vast majority of people. When you start to show physical signs of aging, it's even more depressing. Looks are everything in today's world. Now, I'm not saying this is correct or appropriate, but it is a fact of life on this planet. Looking older, unfortunately, can prevent you from getting the job you want, dating, making new friends, finding love, and even earning more money.
Newport Cosmeceuticals, fortunately, has you covered.
Because the eyes are said to be the windows to the soul, they deserve to be pampered so that they can stay young and vibrant. When you purchase a product from Newport, you are getting top-quality medical-grade products at a low cost, as opposed to other more well-known companies. It was never our intention to become one of the largest skincare companies in the world; instead, we enjoy and take pride in being able to provide our customers with a more intimate shopping experience when they shop with us. Because we fill each bottle by hand, we can ensure that each bottle of any product ordered contains the exact dosage required to meet our customers' needs.
As a chemistry major, it provided me with the knowledge to develop my own unique formulated blend of natural ingredients and medical-grade ingredients used by the world's largest skincare companies, while also incorporating a few other lesser-known ingredients to make our products even more effective. The difference between Newport and other larger brands is that we don't need to sell millions of bottles to stay in business, so we don't have to scrimp on quality by including "filler" ingredients to compensate for using fewer of the more expensive ingredients that produce the desired results. To summarize, we only use the most effective ingredients combined with precise dosages to provide our customers with better, faster, and longer-lasting results.
If you're reading this, it's because you're looking for a better, more effective product that can help you look younger and more vibrant like your favorite celebrity without breaking the bank. You've come to the right place, but before we go any further, let me ask you a few of the most frequently asked questions by my clients. Following that is a quick story about how these two amazing products came to be, so you'll want to keep reading.
Are you tired of using makeup to conceal dark circles, blemishes, and under-eye discoloration?  Are the fine lines around your eyes, more noticeable than you would like them to be?
What would you do if you could have a more perfectly smooth, youthful appearance around the eye area and only wear make-up when you want to?
If you can relate to any of these questions, I'd like to tell you a quick story and show you that the answers are closer than you think. You'll be glad you found us; I promise.
A few years ago, one of my celebrity plastic surgeons asked if I could develop an Eye product that would effectively treat the dark circles and fine lines that many of his patients complained about.  His patients, like most people, wanted a long-term solution.   He said it is often his patient's number one area of concern and he wanted to offer them TRUE results.
Using my 30 years of research, I quickly realized that combining all of the ingredients into just one eye treatment was not the solution.  When it comes to the eye area, the most common concerns are not only on the surface for wrinkles but also underneath the tissue, where those frustrating dark circles are coming from.
So, I set out to address both conditions separately, and the result was some of the most profound to ever be achieved.
First, I developed the Eye Repair formula.   This product targets the surface eye area for maximum results.   The reason for this is that the cream sits on the surface of the skin.   Exterior fine lines are caused by slow cell turnover.  As we age, the cell development becomes slower and slower and therefore, we start to see those awful fine lines emerge.   When we treat the eye area and promote new skin cell development, we naturally see a significant difference.   As the skin is the largest organ in our body, it has amazing regenerative properties.   When one skin cell dies, our body triggers a new one to develop.   The newer skin cells around the eye area, the more youthful they become.  That is just what eye repair does.
Second, came the Eye Regeneration Complex to address the issue of dark circles and puffiness which was also of great concern.   Because this comes from underneath the tissue, it requires a power-packed serum that penetrates deeper into the tissue.   Often the dark circles and puffiness come from sluggish blood flow under the eyes as we age.   By introducing a vitamin and peptide-rich serum, it goes straight to the source to target the frustrating eye discoloration and puffiness.    You just simply cannot get this result with just an eye cream that is targeting the surface area.
After years of testing and patient focus groups, the approach proved to produce phenomenal results!
With my research background starting 30 years ago as the intern to the doctor who invented Retin-A, I have devoted my entire career and Newport Cosmeceuticals to developing products for the Plastic Surgery and Dermatology field that HELP people.
Newport Cosmeceuticals eye products which I like to refer to as the "perfect pairing"  when used together, scientifically address those dark circles, wrinkles, crow's feet, and discoloration,  giving you results like NEVER before, especially with any other product claiming to achieve the same results.
If you've ever wondered how some people never appear to have signs of aging on their faces and appear to be well-rested all of the time, and you aspire to be like them, then I invite you to see the results that our Celebrity surgeons have been prescribing to their patients.
Look no further, Newport Cosmeceuticals is about to change your eye regimen for a lifetime.
This "perfect pairing" can be easily incorporated into any skincare routine with just a few small drops. They are medical grade, extremely potent, and unbelievably effective.
A  few drops of each, once or twice a day is all you'll ever need to stay "Instagram/TikTok" ready, and you won't' believe how amazing you look!
100% money-back guarantee as we know you will love them.
# GenuineProducts
Designed By Experts
100% Natural
At Newport Cosmeceuticals, we use both natural and medical grade ingredients, and we are animal cruelty-free.
Cruelty free
The ingredients of our products were not tested on animals at any point during their production.
Non GMO
Our products are made from naturally sourced organic oils and minerals which makes them a reliable and safe choice for all skin types.
HOW TO ORDER YOUR PRODUCT
All organic ingredients for smooth
and flawless skin!

Consultation with the experts
With free consultation for everyone, our experts provide guidance and assistance that aid you in achieving your skin goals in no time!
Receive a custom made formula
Your search for effective skin-care is over with our bundle of 3 package! We also offer customized products tailored to your skin needs.

Stay in touch for feedback
For further information, fill in the given form if you require any further guidance or support with our products for any particular skin care requirements.
Disclaimer
None of the statements made on this website have been reviewed or evaluated by the Food and Drug Administration. The efficacy of these products has not been confirmed by FDA-approved research. These products are not intended to diagnose, treat, cure or prevent any disease.
What Our Clients Say About
Our Products.
I bought the Newport bundle pack around a month ago and I'm hooked since then! The Cell Regeneration serum is my favorite although all the three products which include the Anti-Aging serum and Eye-regeneration serum have served as a power punch pack for my skin! I'm so glad I found these products because they have proved to be a complete game-changer for my skin.
Karla Anderson
Corporate Lady
Newport Eye-regeneration serum is a product I can swear by! Being a person who has always been skeptical about trying skincare products, I can proudly say that Newport's cruelty-free and all-natural products have become my only skin routine essentials. The three serums go hand in hand to give me perfectly smooth skin while taking off the years from my skin the more I apply them!
Amy Evans
Model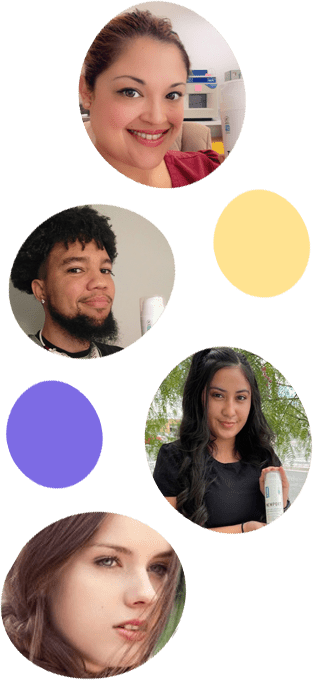 Stay up-to-date with all our
deals, latest products, and more!
Get your eyes on some exclusive insight and deals from us by signing up!